Why do Hospital Beds need to Follow Clinical Guidelines?
In 1985, FDA recorded 901 incidents where patients were caught, trapped, entangled, or even strangled due to the poor formation of hospital beds. The report on the number of death and nonfatal injuries led to an effort initiated by FDA to release assessment guidelines for a better hospital bedding system to reduce life-threatening entrapment and injuries to patients.
Manufacturers of hospital beds
and accessories, abide by these guidelines when designing new beds to ensure total compliance with applicable FDA regulations and maintain quality system regulation. These guidelines encourage manufacturers to provide relevant information on hospital bedding systems, mattress dimensions, compatible components, and issues of entrapment.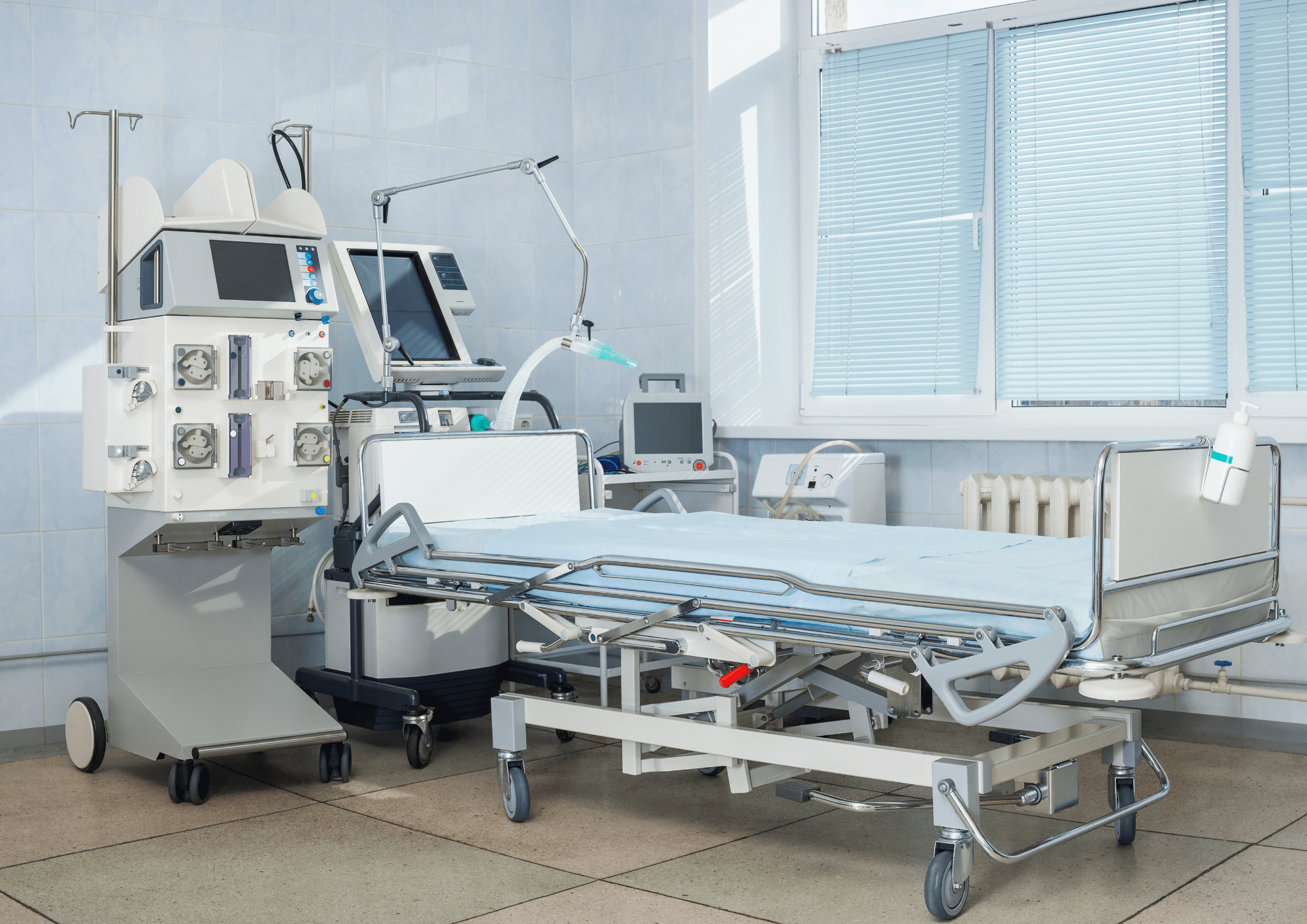 This article presents various types of hospital beds with unique features and adjustments:
Manual Hospital Bed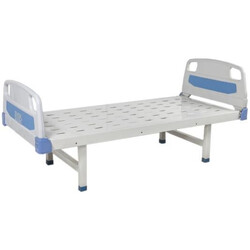 Manual Hospital Beds
are Clinical Beds that are uniquely designed to meet comfort, sturdy, reliable, and cost-effective for the long term. A manual Hospital Bed is suitable for various operations conducted by the medical unit and recommended when there is a caregiver available to make adjustments. It is equipped to have hand cranks to adjust the bed's height and raise and lower the head and the foot section. Manual beds are the most versatile option for people who do not require regular relocation. Backrest lifting features allow patients to sit up comfortably without any assistance.
• Economical Bed for Hospital use
• Reduced risk of malfunction
• Reduced risk of motor failure and maintenance
• Right choice for Recuperating and Nursing
• Adjustable Height for Easier Mobility of moving in and out of Bed
• Adjustable Head and Knee Position for Comfort and better circulation
Electric Hospital Bed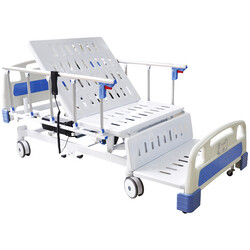 An Electric Hospital Bed are most advanced hospital bed with complete automation work with motor control. It features integrated multi-function for the comfort of the patient and the convenience of health givers. It allows the user to control height adjustment, well as provide optimal height for caregivers to work with patients. An Electric Hospital Bed fulfills the need for the raising of the head, including into Fowler's position, to allow for feeding, ease of breathing, and other benefits resulting from reclining upright; and raising of the feet to help with ease of movement and blood flow. However, some models can also move into more positions, such as the Trendelenburg (tilt) and the cardiac chair position. Most Electric Hospital beds have a feature that locks the bed in position so a patient can't accidentally move it into a position that could be dangerous.
Electric Hospital Bed
• Equipped with back- up power in case of emergency situations
• Combination of comfort and functionality
• Right Choice for Medical Unit and ICU
• Adjustable Positioning that can elevate up to 90 degrees
• The Lock-in features secure patients from accidentally falling into a dangerous position.
• The ability to adjust the bed to different angles with the hand controller
Electric hospital beds also come in semi-electric options which are linked to a motor at the bottom of the bed that requires an electric connection to operate. It's a more advanced version of a Manual bed as the height needs to adjust manually. These beds are a combination of uses electric and manual adjustments, with the head and foot sections usually adjusted electrically while the height is adjusted with a manual crank.
Children Medical Bed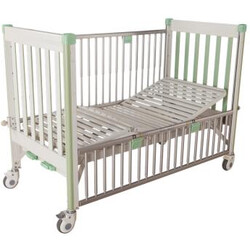 Children's Medical Bed
also known as Pediatric bed, comes in a trendy design and meets the standards of clinical's needs which allow easy care and disinfection. These beds are equipped with Trendelenburg and reverse Trendelenburg positions that feature the bed's weight capacity, adjustability, and safety measures to protect the child's needs and prevent injuries. Also available in vibrant colors and modern designs with adjustable height, side tails for safety, and a specialized mattress for pressure relief. Some children's medical beds are equipped with bottom wheels or pediatric cribs for fully enclosed beds.
• Promote comfort, safety, and a faster recovery time for children
• Allow adjustment of the head and leg elevation
• Designed to prevent the entrapment of children
• High sides and full rails on both sides minimize or prevent falls
• High sides, top covers, or full mesh enclosed canopies to prevent escape
• Specialized mattresses to prevent bed sores and other potential problems
• Padded bumpers for children with seizures and those who may injure themselves due to medical or behavioral conditions
• Allows access to medical devices (feeding pumps, IV pumps, ventilators, oxygen) for a safe method for the tubing of these items to pass into the bed
Delivery table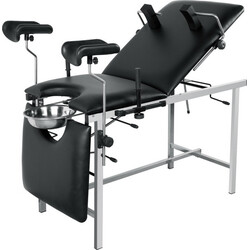 The
delivery table
also known as the gynecological delivery bed is flexibly designed for suitable in conducting parturient delivery, gynecological surgery, operative abortion, diagnosis, and examinations by a medical unit. It has an array of multi-functional features to conduct examinations and surgical procedures such as Operative abortion, Gynaecological examination, Labor, delivery, postpartum recovery period, Parturient delivery, Diagnosis, and Ultrasonic examination. The planks, basins, and all outer shells are made of stainless steel with smooth surfaces and removable panels that allow easy cleaning and disinfection.
• Comfortable for women in labor with retractable floor support
• Bed fully adjustable with medical-grade electric motors
• Handset designed to allow easy and quick positioning of the bed sections
• Anti-trapping system that automatically stops the motor on detection of an obstacle
• Able to adopt the cardiac chair position for patients with heart and breathing problems
• Height adjustment system that prevents collapse in case of failure
• Certain functions are pre-programmed such as Trendelenburg, CPR, cardiac chair, and Fowler positions
Dialysis Bed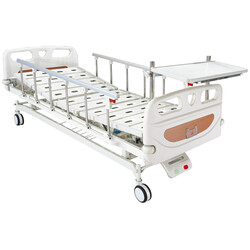 Routine dialysis treatment and quality of sleep are important for dialysis patients to recover. Therefore, a
dialysis bed
is used for setting purposes during dialysis treatment. These beds are best to be used when patients with end-stage renal disease spend many hours each week undergoing hemodialysis. Providing specially designed dialysis beds, contribute toward enhanced care and an innovative range of hospital bedding solutions.
• Featured with Trendelenburg and reverse Trendelenburg movements adjusted by motors or using the control panel
• Wheel for the direction and a staging brake for the control
• Anti-crashing pads on each corner can rotate 360° and prevent any injury
• Equipped with IV poles that are easily inserted at the two corners of the bed head
• The up-down movement of the bed is supplied by back-forward sliding movement
• Manufactured from high-quality materials for functionality and durability
Orthopedic Traction Bed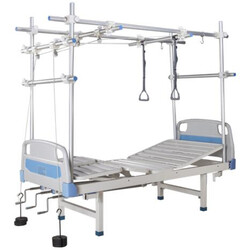 Orthopedic Traction Beds
are designed for diagnosis, orthopedic surgeries, correction, and traumatic treatment. Its unique features help to reduce pains associated with bone disorders, fractures, and musculoskeletal disorders. These beds are impeccable on counts of quality, durability, and performance, and encompass backrest and leg rest adjustment facilities. Multi-functional features the accessories perform expanding traction to different parts of the vertebra and the extremities without moving the human body. It's widely used because of its easy and convenient operation.
• ABS head & foot boards with portal frame and the direction traction frame
• Equipped with a lift pole and individual brakes
• With drainage bag holders
• Freight-saving and knock-down construction
• Bed framework and bed legs made from mild steel
• Anti-bumper in each corner with I.V. rod locations
Bottom Line
Hospital beds are designed for the vital care of patients in healthcare facilities with an ability to withstand extreme temperatures; also, easy to sterilize and capable of being used in a variety of circumstances. Our beds are manufactured with premium quality components in compliance with clinical standards. Built with the finest quality stainless steel with corrosion resistance to provide a safe and ergonomic design for comfort and ease to use.
Always keep in mind the requirement of your healthcare facility while choosing the right bedding after a complete comparison and analysis.
Labstac
holds the most comprehensive range of
Medical and Industrial products
.
Check out
hospital bedding facilities available only at Labstac,
contact us
today!