Factors to Consider While Selecting a Fume Hood
You've probably seen a Fume hood in a laboratories and research centers, but do you know how fume hoods functions and what it is used for?
It is worthwhile to give careful consideration to choosing the best Fume Hood for your needs because a decent Fume hood will last for many years of rigorous use every day.
The Fume hood is basically an enclosed industrial workbench with an exhaust system that is designed to provide protection from toxic fumes and hazardous volatile vapours, and are reliable and easy to use. Fume hoods also serve many secondary functions like protection against the chemical spills, reactions, and fire mishaps and has wide applications in Metal analysis, Pharmacy, Research Field, Commercial, Medical, Laboratory etc. It is also known as Laboratory Fume Hood, Chemical Fume Hood.
Let's investigate the numerous uses and functions of the Fume hoods in this blog.
Types of Fume Hood
1. Standard Fume Hood-
In
Standard Fume Hoods
air is air is drawn in from the front which is the open side of the cabinet, either expelled outside the building or made safe through filtration and fed back into the room so the user get protection from toxic fumes and volatile vapours, and are reliable and easy to use.
Standard Fume hood comes with working chamber which is made up of solid chemical-resistant material and interior body includes melamine board with acid and alkali resistance function.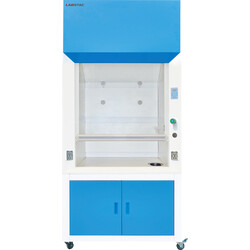 Standard Fume Hood
2. Ducted Fume Hoods-
Ducted fume hoods
have ventilated enclosures, operate within the framework of infrastructure hat protect against toxic fumes, vapours, and dust and provides an excellent user protection. This type of fume hood is connected to a ducting where contaminants pass before being exhausted into the environment.
Ducted fume hoods have a base, work surface, hood, blower, ducting system, Folding acrylic front window, down part with free stop function and Microprocessor control system, LED display.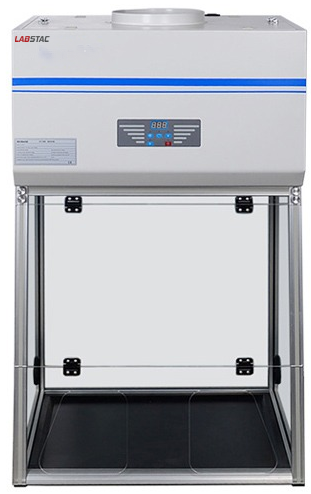 Ducted Fume Hood
3.Ductless Fume Hoods-
Ductless fume hood
has fan mounted on the top of the hood. They filter the air and then return the clean air back into the laboratories. The Ductless fume hood is very effective if installed and used properly and maintained in good working order.
It is also known as Carbon-filtered enclosures, Filtered fume hoods.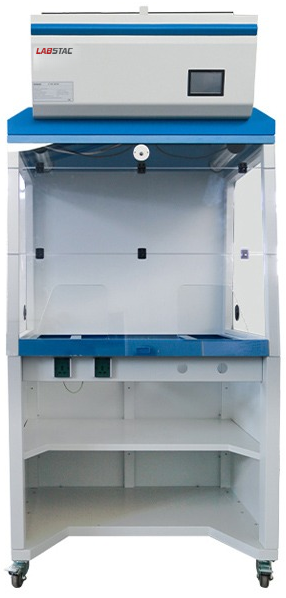 Ductless Fume Hood
4.Walk In Fume Hood-
The
Walk in fume hood
is often known as floor mounted fume hood which protects the operator from toxic and volatile fumes generated by large apparatus. They are also available for custom sizes depending on the lab space requirements. Operators are available to walk into the fume hood to operate if need. Ideal for laboratories and workshops with high volume equipment, drum storage areas, and dust/particulate environments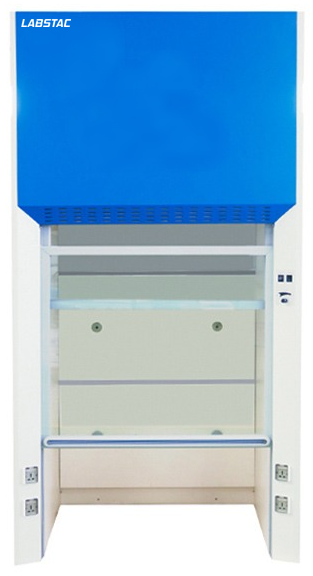 Walk In Fume Hood
Factors to consider when selecting a fume hood:
1. Room size (Width x depth x height)
2. Blower, Lab heat load
4. Types of materials used
5. Work Surface Height
6. Frequency of use % of time, working at hood
7. Size of apparatus to be used in hood
How to use a Fume Hood?
All procedures that include the use of volatile materials should take place inside of a fume hood. Corrosive acids, flammable solvents, corrosive bases, toxic fumes, vapours, or dust, asphyxiating gases are all examples of materials that must be used inside of a fume hood.
• Check the fume hood certification
• Make sure the exhaust is working properly
• Wear appropriate protective gear while working in fume hood.
• Place all the chemicals and other material required for experiment are inside the fume hood. Also, placing chemicals at least six inches inside of the hood
• Keep the front opening at 18 inches from the working surface of fume hood. Close the front opening when you are not working under the hood.
• Always keep your face outside of the fume hood.
• After using the fume hood shut down the front opening and place all hazardous chemicals in a closed container.
Do's and Don'ts of using fume hood in a Laboratories
| | |
| --- | --- |
| Do's | Don'ts |
| Do all experiments involving hazardous materials are inside a fume hood. | DO NOT place your face or head inside the hood. Keep hands out as much as possible. |
| Check that the fume-hood is operating correctly before starting the experiment. | DO NOT use a fume hood as a storage area or overcrowd the fume hood |
| Always keep front opening as low as possible. | DO NOT open the front opening when you are not working in the fume hood. |
| Connect all electrical appliences outside of the hood. | DO NOT put power boards inside the hood nor any other spark-generating equipment. |
Once you are aware of everything mentioned above, choosing the perfect type of fume hood becomes much simpler. The safety of your work and your students and employees is on the line, thus it's important to have the appropriate fume hood for your laboratories and research centers. LABSTAC will always guide you to buy best Fume hood. For additional information please visit us at
https://labstac.com/Fume-Hood/c/5500