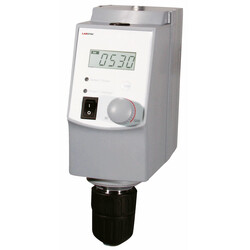 Overhead Stirrer
Laboratory overhead stirrers are designed for the safe and effective mixing of large volumes of liquids. It guarantee best mixing results through its self-reinforcing flow characteristics. Ideal for all mixing applications in the laboratory. Quality, performance and reliability are the best features that makes it unique.
Used in Chemical Synthesis, Medical, Pharmaceutical Synthesis, Physical analysis, Laboratory, Chemical Analysis, Petrochemical Industry, Research, Pharmaceutical.
Also known as Flange mounted vertical stirrer, Mechanical stirrer, Laboratory Overhead stirrer, Laboratory Flange mounted vertical stirrer, Laboratory Mechanical stirrer, Digital Overhead Stirrer.
Download Catalog
Note: To download a single product catalog please goto the product page and download catalog