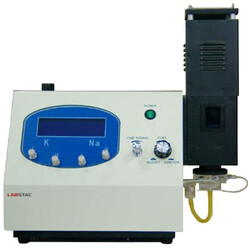 Flame Photometer
Flame Photometer is a simple quantitative analytical test based on the flame analysis. It is based on principle of measurement of the emitted light intensity of a metal due to the thermal energy provided by the flame source. The wavelength and the colour of the flame gives details about the element present in the sample, whereas the wavelength of emitted light is specific for specific elements. By direct absorption techniques, the absorbance of light due to the electrons excitation can be measured while the emitting radiation intensity is measured using the emission techniques.
Used in Pharmaceutical Industry, Beverage Industry, Food Industry, Environmental Analysis, Chemical Industry, Cement Industry.
Also known as Laboratory Flame Photometer, Flame Emission Spectroscopy.
Download Catalog
Note: To download a single product catalog please goto the product page and download catalog