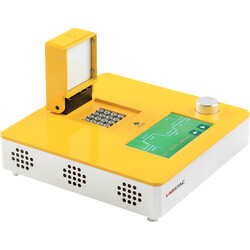 Mini-PCR
Mini-PCR works interchangeably with standard PCR assays, reagents, and consumables. It is portable, user friendly, small in size and easy to program with an intuitive user interface. It is benefit for students to understand with the animation presentation capabilities of the PC operating software.
Used in Incubation, Research, Development, Food Science, Pharmaceutical, Life Science, Animal Diagnostics, Analytical Laboratories, Molecular biology, Gene amplification, Gene Expression.
Also known as Laboratory Mini PCR, Mini PCR Machine, Laboratory Mini PCR Machine.
Download Catalog
Note: To download a single product catalog please goto the product page and download catalog