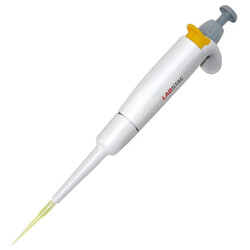 Single Channel Pipette
Single Channel Pipette is the new standard for microliter measurements. It is top of the line micropipette that is ergonomically designed and easily adjustable. They are commonly used in laboratory, research, chemistry, biology, forensic, pharmaceutical, and drug discovery labs to transfer small quantities of liquid.
Used in Environmental Sciences, Laboratory, Research, Liquid Handling Task, Institutes, Pharmaceutical, Industrial, Microbiology, Chemistry, Biology, Medical, Plasmid Purification.
Also known as Micropipette, Laboratory Single Channel Pipette, Laboratory Micropipette.
Download Catalog
Note: To download a single product catalog please goto the product page and download catalog