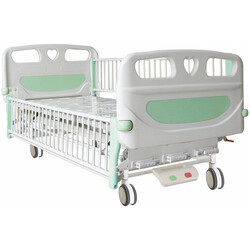 Children medical Bed
Children medical Bed built to the most current standards while also meeting the clinician's needs which allows easy care and disinfection. The bed is equipped with Trendelenburg and reverse Trendelenburg positions. Simple and modern design for safety and protection of the child.
Used in Medical unit, Nursing.
Also known as Children Hospital Bed, Medical bed, Hospital bed, Medical child bed, Pediatric bed, Medical pediatric bed, Hospital pediatric bed, Children medical bed, Children pediatric hospital bed.
Download Catalog
Note: To download a single product catalog please goto the product page and download catalog